Why are kids going to 'money camp'?
In a rented room in a church in an upmarket Toronto suburb, Hasina Lookman is running through various stock market indices at a rapid clip.
"Tell me about volume," she asks, then follows up with an explanation of market capitalisation. Her listeners, clearly engaged, appear eager to weigh-in on what might cause a stock's value to fluctuate.
But this isn't night school, or a local college class. Lookman is a project manager who founded and teaches at Camp Millionaire, and her dozen or so students are all children between the ages of 10 and 14. When she pulls up a financial summary for the Disney company showing, among other things, a serious dip in value in the recent past, one of the kids stage-whispers: "I bet that was when Aladdin came out."
While from diverse ethnic backgrounds, Lookman says that most kids are from middle and upper middle class families. (The weeklong camp costs C$275 (about £168), but Lookman says she offers bursaries to children from lower income families) and they're mostly not there because they want to be rich, she adds.
"You tend to have kids from families where both parents work so they already understand that you need to work hard to have a good life" she says. "What they're coming to learn is: 'How can I make sure I have enough money for university and how I can make sure that I'm okay in life?'".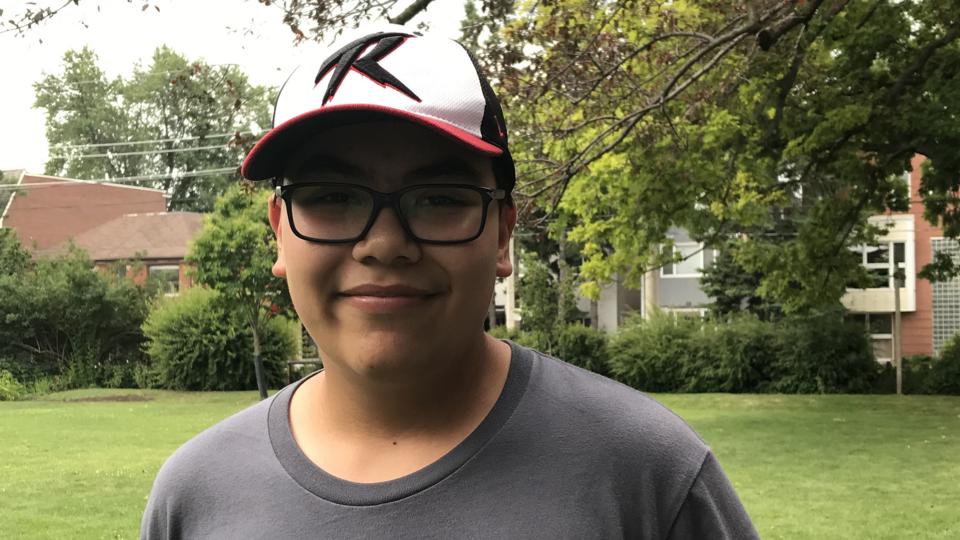 James Begin, who won the stock market challenge, lost money before winning the top prize (Credit: Camp Millionaire)
A New Generation of Entrepreneurs?
When many of us look back on summer holidays during childhood, we might think of hours spent outside or at summer camps kicking balls, swimming or doing theatre. But in recent years, a growing number of summer camps, as well as books and magazines, are teaching children how to make and save money – and how to get rich.
Finance camps just like Camp Millionaire are popping up across North America. In Denver, there's Junior Money Matters, which teaches international trade theory to pre-teens. In Austin, Moolah U offers camps where children create a business, including making a product and selling it for real money. While Kids Biz Academy in Hong Kong runs a holiday camp where kids ages 8-14 learn the nuts and bolts of running a business, from product design venture capitalism. And Youngpreneurs, based in Kolkata, India, pairs teenagers with real-life entrepreneurial mentors.
Back in Canada, Camp Millionaire teaches budgeting, saving and making investment decisions, as well as more complex financial concepts like how a trade war with China might affect a Canadian investor's bottom line. According to Lookman, it's the youngest kids who "really get into the stock market challenge".
Camps like this raise all kinds of interesting questions, including: What does age-appropriate financial education look like for a seven or 13-year old? Where does making money fall on a spectrum of values parents are hoping to imbue? Do camps like this simply help reinforce a class-based status quo, or can it help less advantaged children to gain a leg-up? And at a time when many parents are lamenting how hard it is to control the information their kids have access to, should money management and the global financial system fall into the category of too much, too soon?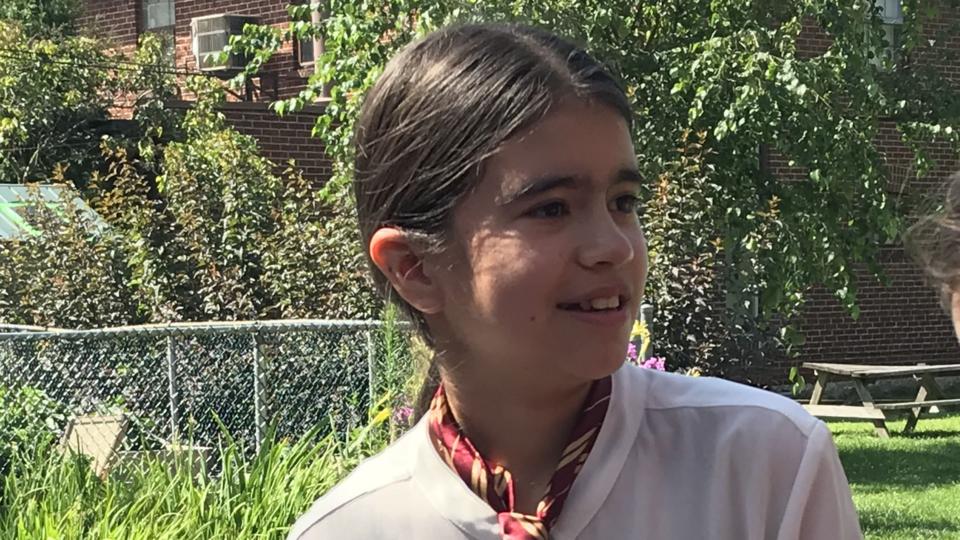 Evangelia Prokou takes part in a role-playing exercise with other campers (Credit: Camp Millionaire)
'Work Hard For A Good Life': Getting A Head Start
Camp Millionaire's curriculum encourages a nuanced financial literacy many grown-ups do not possess, while also touching on both philanthropy and socially responsible ways to spend money. The sessions focus more on building your own wealth than its redistribution, but Lookman does encourage children to make connections with what's happening in other countries, like how climate change might impact their investments. "We talk about heatwaves in Paris and what that means for the stocks you're carrying," says Lookman.
For the stock market challenge, Lookman gives each of the campers a virtual $10,000 to invest. On day one, when they learn the basics of the stock market – how it works, trading currencies, opening and closing times – she says that the children tend to pick stocks that belong to very familiar companies, like Apple and Disney, without giving it much thought. But a couple of days in, once they're familiar with dividends and other relevant information, they start scrutinizing companies based on a much wider range of variables. "You see the children evolve quite a bit in five days," says Lookman.
Others get a head start. Alexandra Reeves, 10, says she often listens to economics podcasts and that she scoured Barron's (a US financial publication) in search of an affordable tech stock, before camp started. She's interested in how going to Camp Millionaire might help her save enough money to pay for university.
James Begin, 13, lost money on the stock market challenge on the first day by investing in Blockchain, but then made a virtual $1,000 overnight by investing in Golden Star Resources, a Canadian company with mines in Ghana. Begin says he's learned how banks make money, but is still confused by how President Trump's tweets can move the stock market. "It's pretty insane that one person can affect trillions of dollars," he says.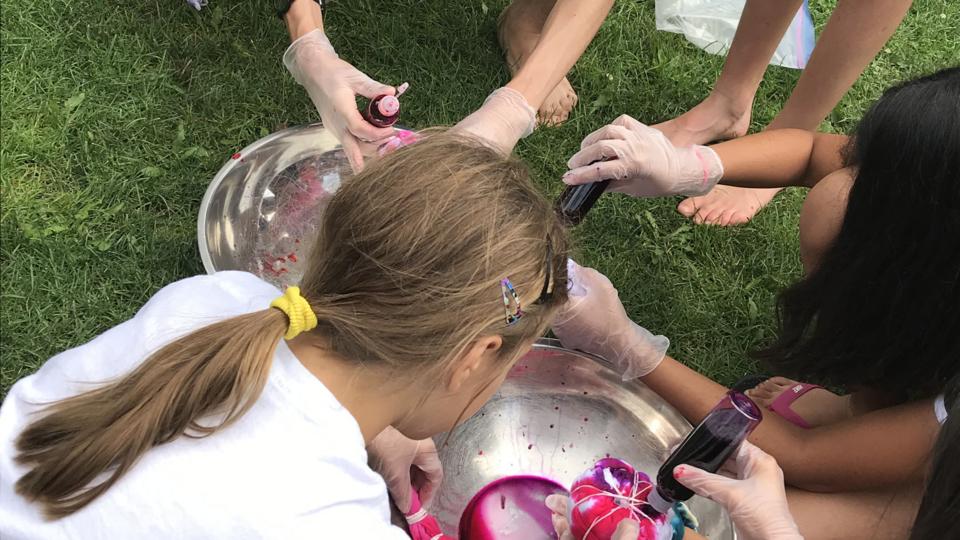 After a morning spent discussing the U.S.-China trade war the campers headed out into the sunshine to tie dye some t-shirts (Credit: Camp Millionaire)
Managing Money Matters
It's tempting to read this trend as a sign of growing middle-class anxiety over their financial future. "Credit card debt and student loans are enormous, and the majority of adults don't have enough savings for retirement," says Liz Frazier, financial planner and author of Beyond Piggy Banks and Lemonade Stands: How to Teach Young Kids About Finance. "A lot of this is stemming from a lack of financial education. I think it's becoming more and more apparent that it's a life skill you need to know."
Some advocates are pushing schools to make financial literacy a core part of the curriculum, some incorporating into the mathematics lessons, but with limited success. A resulting skills gap can have serious consequences. A recent study from the University of Illinois found that nearly a third of over 3,000 young adults surveyed were "financially precarious" in part because of poor money management skills.
Benjamin Hui, a software product manager for IBM whose 14-year-old daughter Kiera is helping out as a counsellor after attending the camp last year, says he sees the camp as a great opportunity to bridge that education gap. "They're not really teaching financial literacy and wealth accumulation," he says. "Kids need to be able to make choices and understand both risks and rewards." In particular, he likes the idea of the stock market challenge, where kids often lose large sums of money - not something many 10-14-year-olds are used to. "It exposes them to the downside of risk."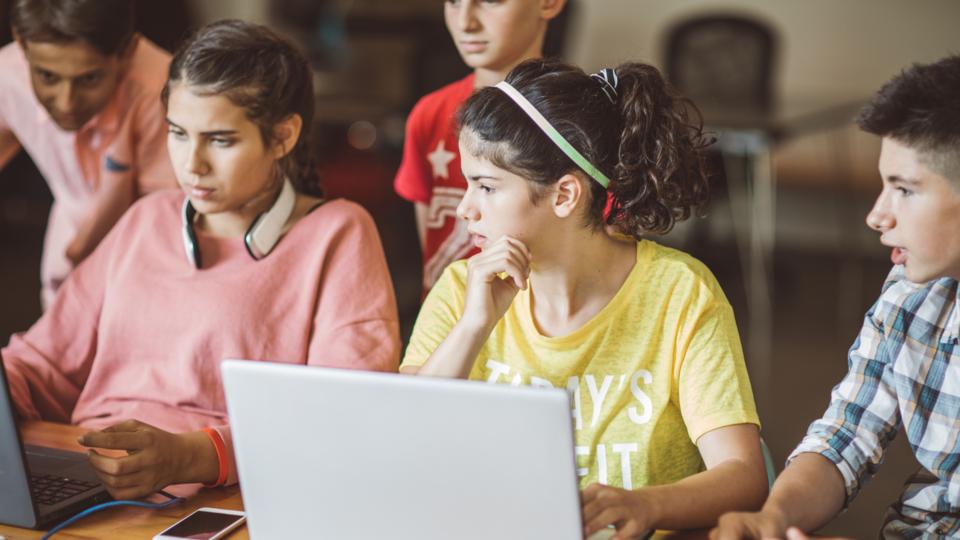 Soaring student loans, credit card debt and a gap in savings for retirement are high on a lot of parents' agendas (Credit: Getty Images)
'Learn Now, With A Safety Net'
It's not just summer camps; money advice for young children and teens is increasingly becoming a cottage industry. Budding young speculators can try out a new crypto-currency piggy bank from start-up Pigzbe. "Teen Boss" magazine has headlines like "How to build your brand by being you."
Frazier points out that kids are learning about money whether they know it or not. "Parents need to make it intentional by paying attention to the conversations they're having with their kids," she says.
Finance camps are one way to make those conversations intentional and to avoid colouring advice or education with personal baggage. "You just want them to understand money as a tool," says Frazier. "It's not good or bad, it's neutral. They need to learn the idea that wants come after the needs, why money is important and how we earn money. Then build on that."
While the children at Camp Millionaire had clearly mastered the meaning of compound interest, they were still kids. At break time, shortly after a conversation about the renegotiation of the North American Free Trade Agreement, several of them attempted to clobber each other with a big rubber ball. Later in the afternoon, they gathered in the courtyard to tie-dye shirts.
For the most part, their thoughts on money were relatively short-term. Many liked the idea of playing shares, of being able to help pay for university or maybe buy a car one day, but they didn't appear to have grand aspirations of power or greedy accumulation.
"Everyone needs money to get anything in life, whether you're broke or part of the 1%, and it make more sense to learn now while you still have your parents as a safety net," says Abtin Abbaspour, a 16-year-old counsellor at Camp Millionaire.
Abbaspour is learning to drive and he used to have his eye on something flashy. "But now when I think about the money coming out of my pocket, I'll settle for a Honda Civic."